Welcome to the E-Library
As the University Librarian, I would like to encourage you in your studies and advise you to make good use of the knowledge you will acquire from our massive collection. The library team will help you to locate, select and acquire the information you need from what may seem like a rather daunting mountain of materials.

The University Library is saddled with the responsibility of providing you with materials, which include electronic and hard copy resources, etc., to enhance teaching and learning in the University community and beyond. However, we can offer you much more than simply the opportunity to borrow literature required for study, teaching and research. We hope you will use the library as a place of learning, information and communication to develop your intellect.

You can make use of our facilities, our advisory and training services, provided by specialist staff as well as our literature collection, which comprises eBooks, e-Journals and hard copy texts.

The university library will continue to improve its services continually to meet up with global practices and international standard.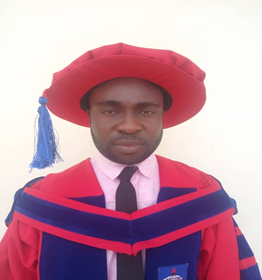 Mr. Atkinson Ike Madukwe
Acting University Librarian